Here's three transmogs I'm using or have used recently (mostly preserved here so I remember how to reassemble them in the future).
Plate of the Faceless
A little outfit I threw together after receiving the Helm of the Faceless while helping gear lowbies for Herald of the Titans. The weapon is a new accessory thanks to Narci; come 5.2 it can be mogged onto any two-handed non-polearm, non-staff weapon. This is a plate transmog with no class requirements.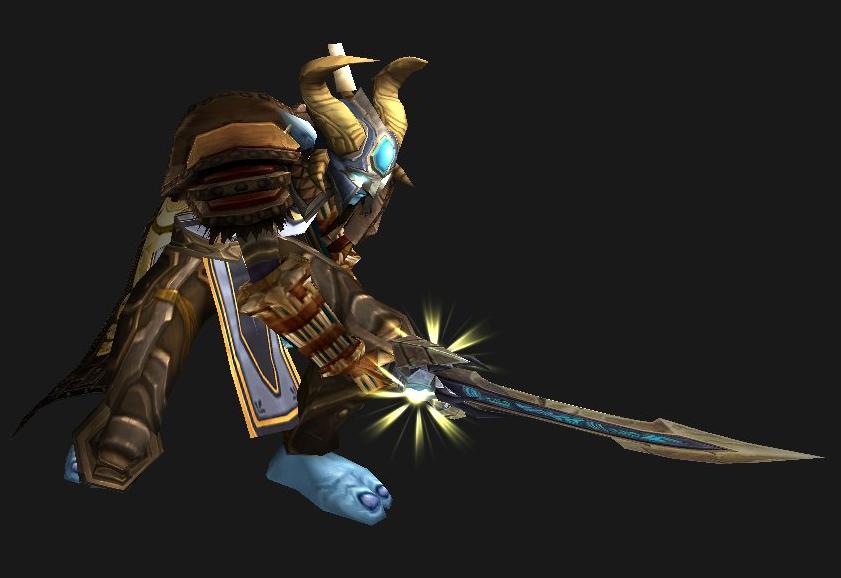 View the complete outfit on Wowhead
Head: Helm of the Faceless (General Vezax, Ulduar 25-man)
Shoulders: Gold Star Spaulders (Geen, Oracles Quartermaster, Sholazar Basin - requires Revered w/Oracles)
Back: Cloak of War (Leatherworking 495, 60 Blackened Dragonscales, has many lookalikes with less onerous material requirements)
Chest: Spiked Cobalt Chestpiece (Blacksmithing 385, 8 Cobalt Bars)
Shirt: Master Builder's Shirt (Fineous Darkvire, Blackrock Depths)
Tabard: Argent Crusader's Tabard (Dame Evniki Kapsalis, Crusader's Quartermaster, Icecrown - costs 50 Champion Seals)
Wrist: not visible
Hands: Bonefist Gauntlets (G'eras, Shattrath City, costs 312 JP)
Waist: Spiked Cobalt Belt (Blacksmithing 395, 12 Cobalt Bars)
Legs: Spiked Cobalt Legplates (Blacksmithing 395, 12 Cobalt Bars)
Feet: Spiked Cobalt Boots (Blacksmithing 380, 7 Cobalt Bars)
Two-Handed Weapon: Quel'Delar, Ferocity of the Scorned (Quest reward from the Battered Hilt questline)
Fists of Molten Fury
I'm actually using this as resto now; I need to find a good staff to match since LFR decided to play a cruel joke and drop the sha-touched staff for my rarely-played resto set. Unspeakable Secret, maybe? This is a mail outfit with (surprisingly) no class restrictions - it uses the non-class-specific Burning Crusade recolors of Earthfury, so if you really want an elemental-looking hunter, be my guest.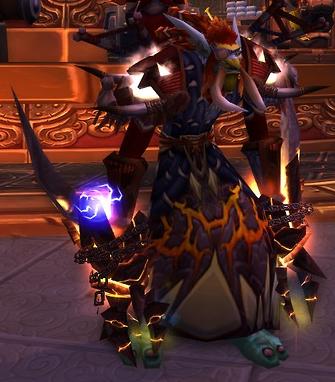 View the complete outfit on Wowhead
Head: Fiery Beholder Eye (Collidus the Warp-Watcher, a rare in Shadowmoon Valley)
Shoulders: Pauldrons of the Furious Elements (G'eras, Shattrath City, costs 312 JP)
Back: not shown
Chest: Worldfire Chestguard (Dalliah the Doomsayer, both normal and heroic Arcatraz)
Shirt: Red Workman's Shirt by FABU (Tailoring 400 from a dropped pattern, 4 Bolts of Frostweave + 1 Red Dye)
Wrist: not visible
Hands: Grips of Nature's Wrath (G'eras, Shattrath City, costs 312 JP)
Waist: Runed Copper Belt (Blacksmithing 70, 10 Copper Bars)
Legs: Molten Earth Kilt (Pathaleon the Calculator, both normal and heroic Mechanar)
Feet: not visible because troll, but other races will probably want shoes
MH/OH Fist Weapons: Fist of Molten Fury (dropped by Battle for Mount Hyjal trash, Claw of Molten Fury has the same source and identical appearance)
Claw of the August Celestials
This actually came about after envying Fabulor's kickin' August Celestials transmog: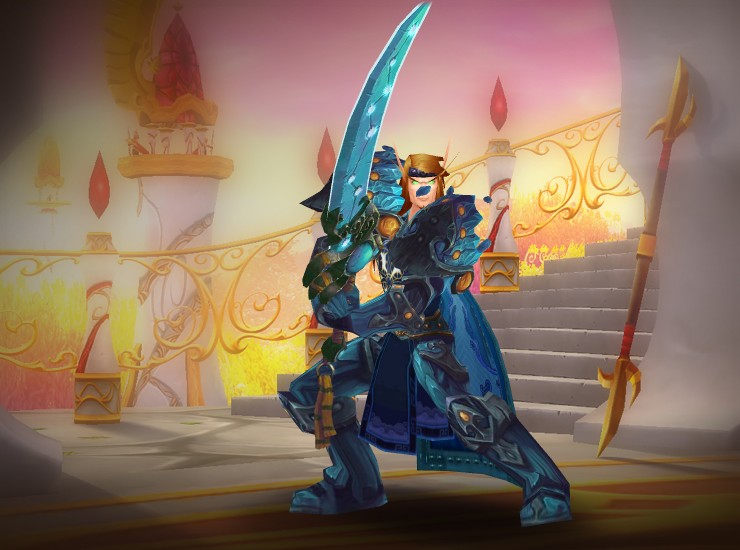 I got pretty close, but the amount of blue mail that matches the tabard is actually surprisingly low! Still, I like the way it came out, although the low resolution on the boots still bugs me. I might change it up in the future. Anyway. This is a mail outfit, Shaman-only due to using a few pieces of tier gear. Please ignore the stupid way the armory and Wowhead draw off-hand fist weapons, I assure you they work correctly in-game.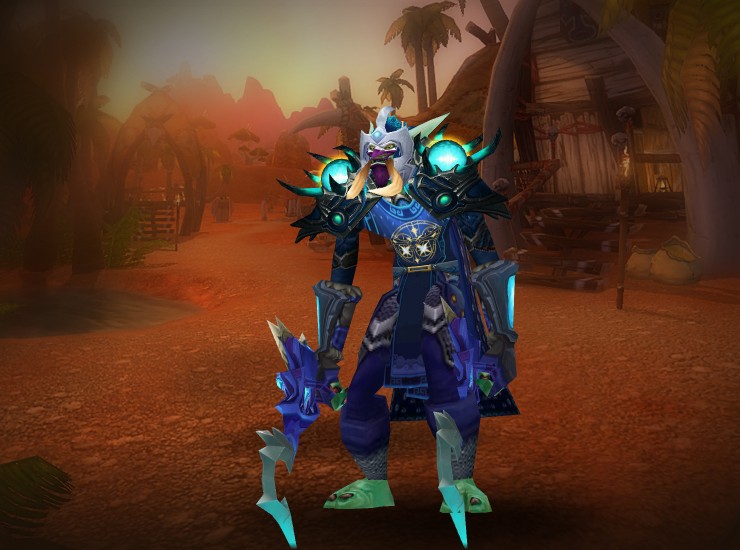 View the complete outfit on Wowhead
Head: Storm Master's Helmet (G'eras, Shattrath City, costs 260 JP)
Shoulders: Heroes' Earthshatter Shoulderguards (Tier 7, 10-man version, dropped by Loatheb and Gluth in Naxxramas)
Back: Arakkoa Sage's Shawl (Quest reward from Veil Shalas: Signal Fires, but it has a few lookalikes)
Chest: Heroes' Earthshatter Chestguard (Tier 7, 10-man version, dropped by Gluth and Archavon or sold for 550 JP in Dalaran)
Shirt: Blue Workman's Shirt by FABU (Tailoring 400 from a dropped pattern, 4 Bolts of Frostweave + 1 Blue Dye)
Tabard: August Celestials Tabard (August Celestials Quartermaster in your faction's shrine in the Vale of Eternal Blossoms, requires August Celestials Exalted)
Wrist: not visible
Hands: Skyshatter Grips (Tier 6, dropped by Azgalor in the Battle for Mount Hyjal; has a lookalike dropped by Shade of Akama in Black Temple)
Waist: Doc's Belt (Quest reward from That Little Extra Kick; shares model with 2 other belts but both have different colorations)
Legs: Dividend Leggings (Quest reward from Gazlowe's Fortune, has 4 lookalikes)
Feet: Nexus-Strider Greaves (World drop with 3 lookalikes)
MH/OH Fist Weapons: The Stray (Trash drop in Naxxramas, has a lookalike from Kel'thuzad in 10-man)